HeatBreeze.com is a participant in the Amazon Services LLC Associates Program, an affiliate advertising program.
Heatbreeze.com is a participant in the eBay Partner Network program and may earn a commission when links are clicked.

10 Best Cordless Heated Blanket Reviews
Do you get bundled up for outdoor activities but still have trouble staying warm? Unfortunately, winter clothing relies on retaining your body's heat, and in freezing temperatures, that's just not going to cut it. What you really need is something that produces heat.
Cordless heated blankets are a great way to stay warm during outdoor activities. They use a rechargeable battery to power built-in heating elements which emit a nice, even heat for hours. We put together a list of the best portable heated blankets on the market. We took into account price, warmth, and user reviews to come up with our top ten.
Measuring in at 60" x 60", the Cozee is big enough for two people to share at a football game. The weatherproof exterior shell shields against wind, rain, and snow, while the space-grade Mylar insulation keeps in the heat. It even comes with heated hand pockets on the corners so you can hold it like a cape.
The battery fits in a pouch and keeps the blanket heated for up to five hours. Most portable blankets only have heating elements near the middle. The Cozee has them spread throughout the entire blanket, which produces a nice, even heat.
The Cozee is hands down the best cordless heated blanket available right now. It's a little pricey, but it beats all the other blankets in warmth, comfort, and size.
Key Features
✅ Weatherproof exterior shell for outdoor activities
✅ Extra USB ports to charge your phone or other devices
✅ Space-grade Mylar insulation to hold in heat
✅ Large stadium blanket for football games
Size: 60" x 60"
Material: Weatherproof exterior, micro-plush interior
Battery Included: Yes
Homedics is known for their large catalog of heated massage products, one of them being a cordless heated massaging blanket. As strange as that might sound, it's actually quite impressive.
With a few button snaps, this soft plush blanket can be transformed into a wearable throw. The vibrating massage elements help relieve stress in the neck and shoulder area with three vibration intensity levels and two massage styles: steady and pulse. The integrated controller allows you to control the heat and vibration components separately, giving you ultimate freedom in comfort.
While this isn't the warmest battery powered blanket available, it's the only one with a massaging element. If you want a comfortable throw you can wear around the house that gives you a heated massage, then we think you'll be happy with the Homedics electric blanket.
Key Features
✅ Adjustable vibrating massage intensities
✅ Can transform into a wearable cape or shawl
✅ Extra soft plush fabric
✅ Separate heat and massage controls
Size: 50" x 60"
Material: Soft plush
Battery Included: Yes
This is the only non-electric heated blanket on our list, but it's one of our favorites. It's 6′ wide and made of a comfortable, soft fleece material – enough to warm two people at a football game.
It comes with eight hand warmers that fit into the blanket's integrated pockets, which seal shut so the warmers don't fall out. As you may know, hand warmers get very warm and can last up to twelve hours. That's more than twice as long as most battery operated blankets we've reviewed.
We recommend the Thermafur if you plan on spending more than a few hours outside. Just make sure to pick up an extra box of HotHands. They're very affordable when buying in bulk.
Key Features
✅ Eight pockets for air activated heat packets (hand warmers included)
✅ Extra wide stadium style blanket for two people
✅ Comfortable soft fleece material
✅ Heat packets keep blanket warm for up to 12 hours
Size: 48" x 72"
Material: Fleece
Battery Included: No, batteries not required.
Originally founded as a hardware store in 1848, Hammacher Schlemmer now sells all kinds of high quality products on their website. Perhaps our favorite is their cordless heated throw blanket.
A lot of electric blankets are bulky and have thick, uncomfortable wires that get in the way. This blanket does away with all of that. It's been specially designed for comfort, using thin heating elements and a slim battery pack for a lightweight design.
The plush fleece interior traps heat close to the body and the exterior shell is durable and water repellent. The blanket is fairly large and heats up very quickly for its size, producing even heat throughout.
A lot of reviewers said that this is a great blanket to use during dialysis, as patients can get quite cold during treatment. It also makes for a great outdoor stadium blanket that can be used for sporting events or other activities.
Key Features
✅ Water repellent exterior shell for sports games
✅ Thin wires and thin battery pack for a lightweight design
✅ Heats up quickly
✅ Good for dialysis patients or people with arthritis
Size: 48" x 58"
Material: Water repellent shell, plush fleece interior
Battery Included: Yes
About the size of a sleeping bag, this wireless blanket has one large heating zone in the center and can be transformed into a shawl with the snap of a button. When wearing it as a shawl, the heating element is located on the back and does a great job of raising your body core temperature.
The waterproof and windproof shell keeps out the elements and provides a little extra warmth when you're sitting around the campfire. Just wrap it around your shoulders or use it as a lap blanket. It's also great to put under your sleeping bag on those extra chilly nights.
It's USB powered and does not come with a battery. While you can use it with any power bank, we prefer a high capacity solar power bank. You'll be able to keep your blanket warm and your phones charged, even in a remote area.
Key Features
✅ Can be turned into a shawl
✅ Waterproof and windproof
✅ Comes with USB extension cable
✅ Quilted padding for extra comfort
Size: 30" x 45"
Material: Waterproof shell, cotton insulation
Battery Included: No
Since heated blankets and power banks are allowed on airplanes, this heated travel blanket makes for a cozy companion. It's made of soft plush and can be folded into a heated pillow for those red eye flights.
It has a USB plug and does not include a battery. If your flight has power outlets on the seats but no USB plug, you can pick up a cheap adapter. If your flight doesn't have any outlets, you can purchase a power bank so long as it's under 27,000 mAh.
Key Features
✅ Can be used as a blanket or pillow
✅ Great for airplanes or long trips in the car
✅ Automatic shutoff feature for safety
✅ Comfortable plush fabric
Size: 30" x 47"
Material: Soft plush
Battery Included: No
When you think of Serta, you probably think of comfort. They're known for making some of the best mattresses on the market, but did you know that they also make heated blankets?
Their battery powered throw blanket lives up to their reputation. The interior is made of incredibly soft hypoallergenic micro-plush fleece, and the nylon exterior shell is water and wind repellent – perfect for outdoor activities like camping.
With three heat output settings, this blanket gets nice and toasty and can last up to six hours on a single charge. The battery is stored in a kangaroo style pouch on the front and has an LED indicator so you know how much battery life is left.
At around half the price of the Cozee, this is a great option for campers and RVers who want a comfortable outdoor blanket that can help take the chill away on cold nights.
Key Features
✅ Water repellent nylon shell
✅ Available in red, black, or blue
✅ Waterproof heated stadium blanket for camping
✅ Very soft and comfortable
Size: 40" x 50"
Material: Water repellent shell, fleece interior
Battery Included: Yes
This one's for all you truckers and road warriors out there. This 12V blanket plugs directly into the cigarette lighter by way of a 70" power cord. With a cord that long, you'll be able to use the blanket in the back of the car and still have it reach the plug.
It's made of thick, soft fleece and comes in a stylish buffalo plaid pattern. With a three minute heating time, you'll be cozy in minutes. It can get up to 149ºF before the over-voltage safety mechanism kicks in so you'll never have to worry about it overheating.
If you want to make this into a portable blanket, you'll need to purchase an adapter and a power bank.
Key Features
✅ 70" car charger can reach from anywhere in the car
✅ Warm and stylish flannel design
✅ Turns into portable blanket with adapter and power pack (not included)
✅ Automatic shutoff protection to prevent overheating
Size: 43" x 59"
Material: Fleece
Battery Included: No
This battery powered blanket is simple and straight to the point; it's comfortable and it keeps you warm. It has a smooth fleece shell and a soft sherpa interior. The battery is included, but if you decide to use a different power bank then make sure it's QC 3.0 compatible.
A lot of the negative reviews claim that it does not get warm enough, but that's because they were using a regular power bank, not a QC 3.0 power bank. The two highest heat settings are not compatible with a regular power bank and are only accessible with QC 3.0.
Overall, this is a cozy, affordable indoor blanket.
Key Features
✅ Can reach temperatures of up to 140ºF
✅ Warm and comfortable fleece material
✅ Only compatible with QC 3.0 power brick
✅ Comes with USB extension cable to plug into outlets
Size: 31" x 51"
Material: Fleece
Battery Included: Yes
We're only recommending this blanket if you already own Makita power tools and have an 18V LXT battery, as this is for the blanket only and does not include a battery.
The wind and water resistant shell makes this a good choice for hunting or camping. It has three heat settings and can last up to 35 hours on a single battery. Some reviews claim that it doesn't produce enough heat, but if you're a Makita fan and just need something to cover your lap in the shop, then we think it's worth giving it a shot.
Key Features
✅ Wind and water resistant outer shell
✅ Lasts up to 35 hours
✅ Compatible with Makita 18V LXT batteries (not included)
✅ Great for camping or hunting
Size: 27" x 54"
Material: Polyester
Battery Included: No. Purchase battery here.
How To Find The Best Cordless Heated Blanket – Buying Guide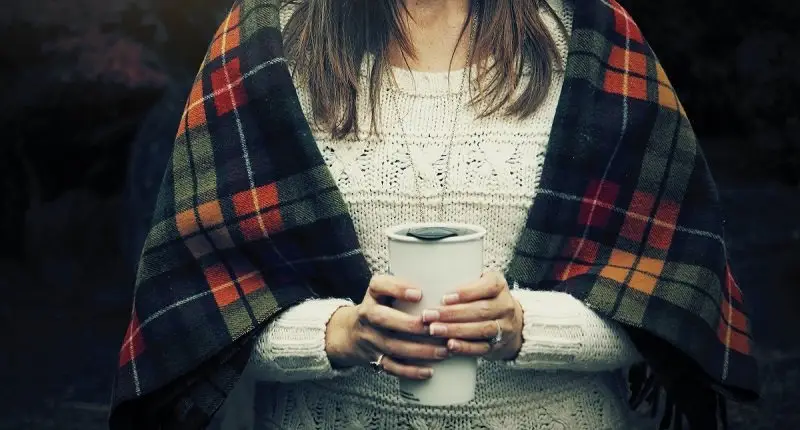 Who Should Buy A Cordless Heated Blanket?
Frequent Flyers: You have no control over the temperature when you're 35,000 ft off the ground. Luckily, you're allowed to bring a heated blanket and battery on board an airplane. You can also bring a USB heated blanket without a battery, but make sure your airline seats have either a USB power connection or a regular outlet that you can use in conjunction with an adapter.
Outdoor Adventurers: It can get cold at night when you're camping in the middle of the woods. Wearing a sweatshirt to bed doesn't always cut it, so you need something warmer. The best way to get the chill out is by using a heated blanket under your sleeping bag. The sleeping bag traps in the heat and lulls you to sleep. Just make sure your blanket has an automatic safety shutoff.
Sports Fans: Hockey and football games are notorious for being cold. The last thing on your mind should be worrying about how you're going to keep warm. A heated, waterproof stadium blanket keeps out the cold and lets you focus on what really matters – the game.
People With Poor Circulation: Whether you suffer from Raynaud's, diabetes, or arthritis, battery powered blankets make a world of difference. Poor circulation causes your extremities to feel cold, which in turn makes your body feel cold. By providing necessary heat to the affected areas, it stimulates the blood flow and helps improve circulation. By increasing your core temperature and improving your circulation, your body will naturally start to feel warm.
Dialysis Patients: One of the biggest complaints we've heard from dialysis patients is that they get cold during their treatment. If you or someone you know is on dialysis, then you know that a regular blanket usually isn't warm enough. A standard heated blanket that plugs into the wall may be fine, but not everyone is next to an outlet during treatment. A cordless heated blanket not only produces enough heat to keep warm, but it's also portable so it can be used anywhere.
How Do Battery Operated Blankets Work?
A rechargeable lithium battery is used to power heating elements that are built into the blanket. The blanket's insulating properties help keep the heat trapped close to the body.
Is It Dangerous To Use A Cordless Heated Blanket?
Power bank batteries typically use 3.7V of electricity, which is not enough power to electrocute you. However, cordless blankets can still be dangerous. Never fall asleep when using one, unless it has an automatic safety shutoff. They can also burn you if the setting is too high and you have a low sensitivity to heat. It's best to have a layer between the blanket and your skin.
Do Heated Blankets Need To Be Plugged In?
Surprisingly, not all heated blankets need to be plugged in. Cordless heated blankets technically plug into a portable power bank, but there are also air activated heated blankets available. These have pouches built into the blanket that hold packets of hand warmers and can last up to 12 hours.
We hope this review has made your decision easier. As you can see, there are plenty of cordless heated blankets to choose from, each with their own unique features and specifications.
The best overall is the Cozee. It's large enough for a family, it's weatherproof, and even has extra USB ports in the battery pack for your peripherals.
The next best thing is the throw blanket from Homedics. It's a comfortable heated blanket that has adjustable vibrating intensities and can double as a shawl.
The best bang for your buck is the ThermaFur HotHands blanket. Instead of using a battery, it uses disposable hand warmers. It's extra wide, is made of soft fleece, and stays heated for up to 12 hours.
If none of these fit your needs, then we also gave you seven great alternatives. Thanks for reading and stay warm out there!